Start With Your Comfort Level
What to wear to my boudoir session is a common question! For your boudoir session you always want to start with your comfort level, so if you are more on the shy side, a loose sweater or wearing one of my robes may be a good starting point for you.
I think it's a great idea to start from more to less dressed to warm up to the camera.
For sure, avoid lingerie that is going to highlight parts of your body you already don't feel comfortable with.
For instance, most of us are a bit self conscious about our tummies, well avoid undies that go below the tummy. Instead, choose high wasted undies, hipster undies, and thongs with thicker bands.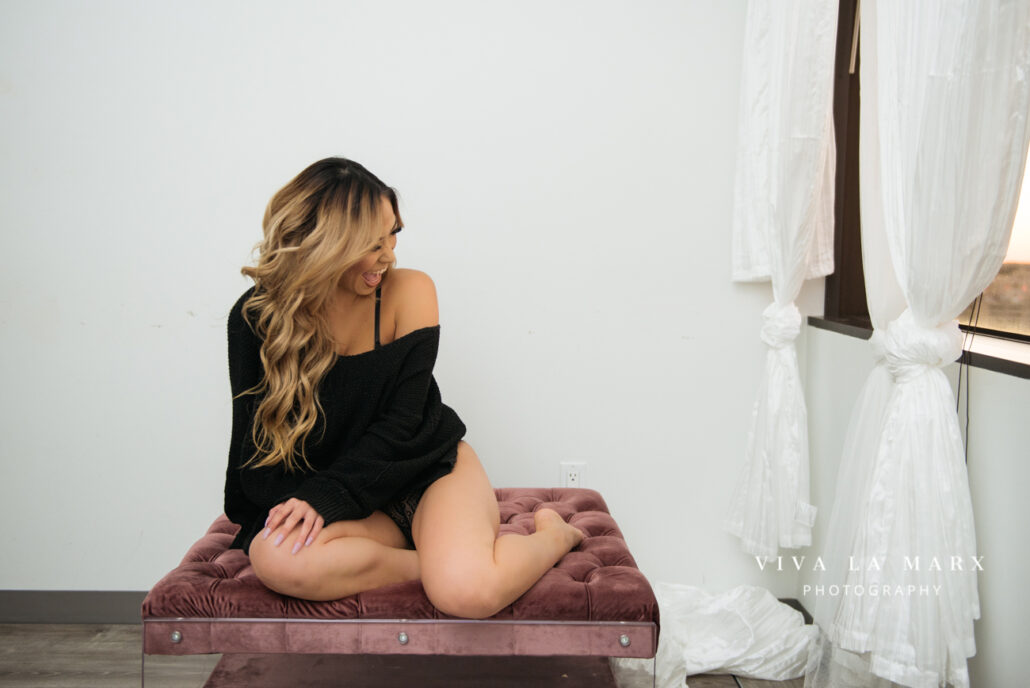 Look For Lingerie With V Shapes and Lines That Elongate the Torso
The question on "what to wear to my boudoir session" should be more clear after reading this blog with photos to give you some ideas!
I have found that lingerie that works for most, if not all, body types are those that have V shapes and lines that elongate or draw the line down or narrow your torso; both accentuate your feminine curves.
For instance, a V in the chest area and lines drawing the eye in (narrowing) or going down in the tummy area. There will be times when the lingerie also has V shapes in the tummy area, most of the time these are teddy's or body suits.
Check out both of these examples for ideas.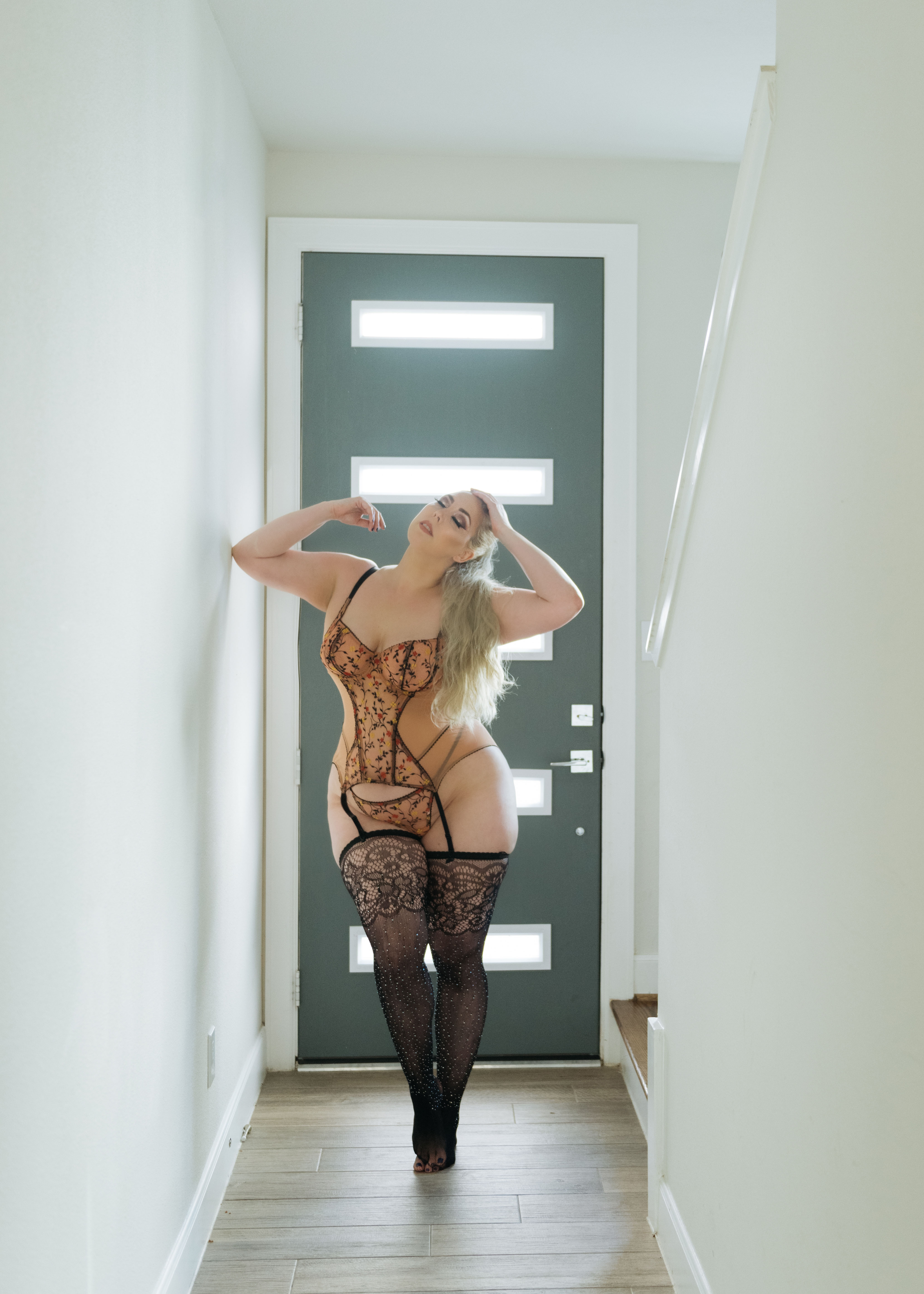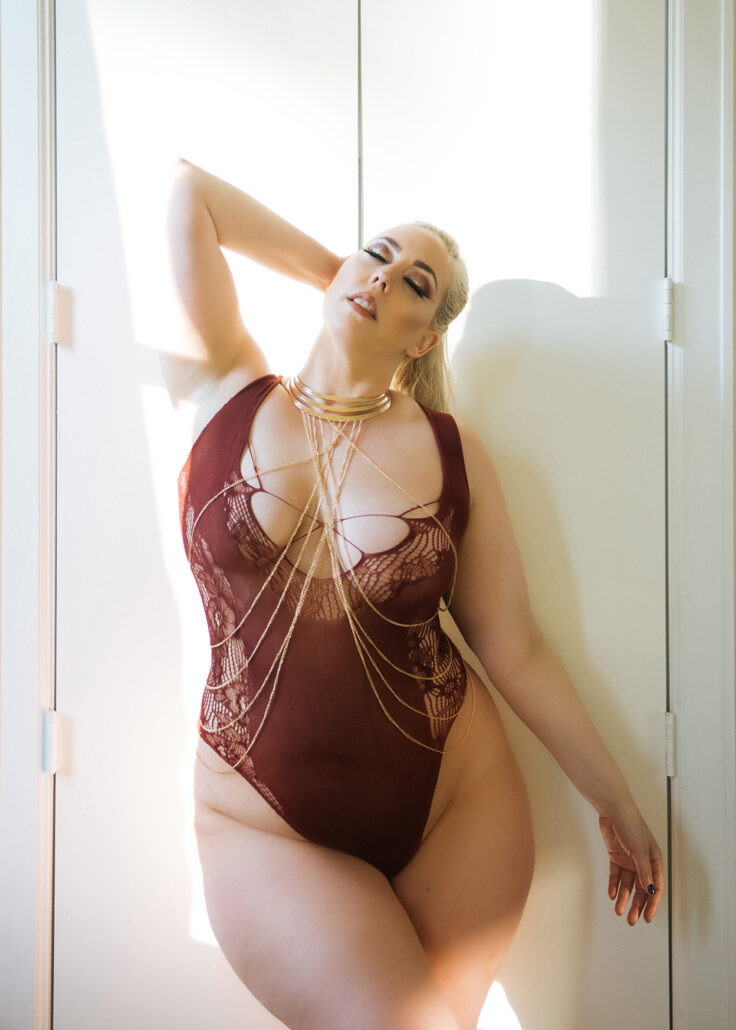 Choose at Least One Thong
I have found that for booty photos, there's nothing better than a thong or a panty that is cheeky that will highlight and round up your butt!
both thick and thin bands around the waist do well. If you're like me and you're a little self conscious about your love handles, thick bands will make you feel like everything is supported a little better.
Over all,  a thong to your lingerie session is a must!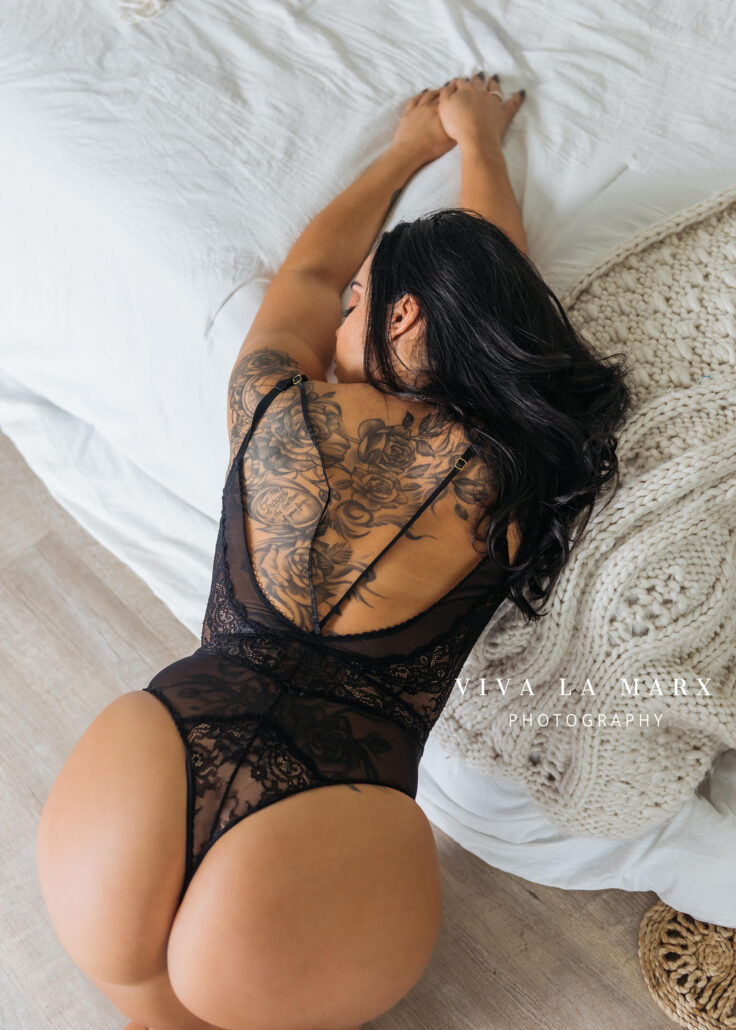 What to Wear to my Boudoir session: Underwired Versus no Wire
Most lingerie is not wired, so be aware of that. So if you have big girls, most of the lingerie will not provide any lift. If you want lift, you will want to look into underwired lingerie, boob tape, or adhesive pasties. You can search using these terms in your online lingerie store, which by the way, I provide you with a list of online lingerie sites where you can shop once you book your session!
If you want my preferred list of lingerie vendors, click my contact form and mention you want it.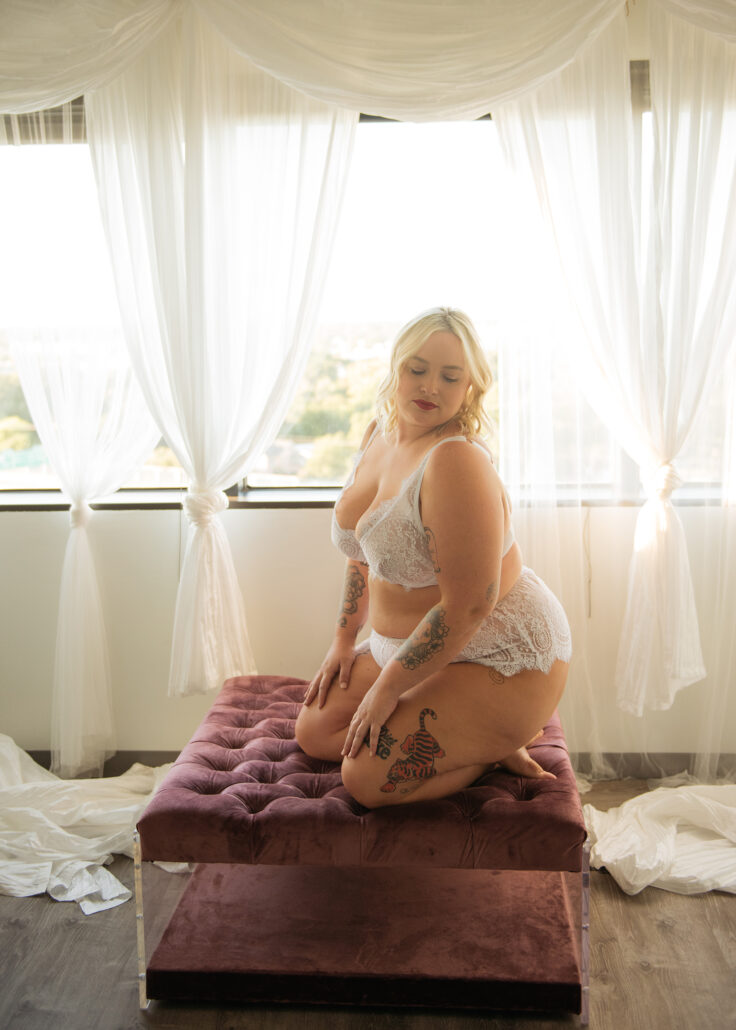 Read the Reviews on the Lingerie
Most lingerie sites these days allow for customers to write reviews on the lingerie. At times, customers will share their measurements, which is very  helpful in deciding whether to make the purchase or not.
Don't Be Afraid to Size Up!
Most lingerie runs small, so don't be afraid to size up! Don't take a size personally, it's just a number. It's more important that you feel good about how your body feels and looks in that lingerie piece!
Again, I highly suggest you rely on reviews from other customers to get close to your size.
You can also visit your local Victoria Secret, Lane Bryant, or Torrid to get sized and this will make it easier to shop online.
Choose Neutral Colors for a Timeless Boudoir Session
I want the focus to stay on you, not your lingerie, so definitely stick to neutrals, soft colors, or dark colors.
If you are choosing a red, a red that is closer to burgundy will show better on camera.
Avoid any type of neon color.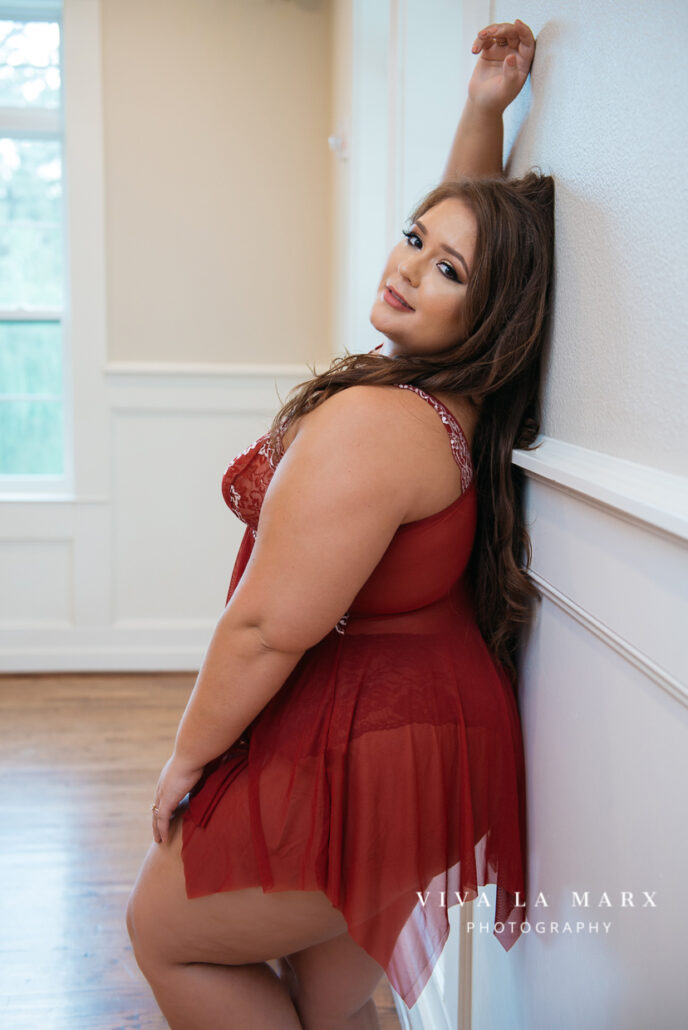 What to Wear to My Boudoir Session: Baby Dolls and Slips
Baby dolls and slips will also look great in your boudoir session. They are feminine, leave some things to the imagination, and they allow for flow-y poses.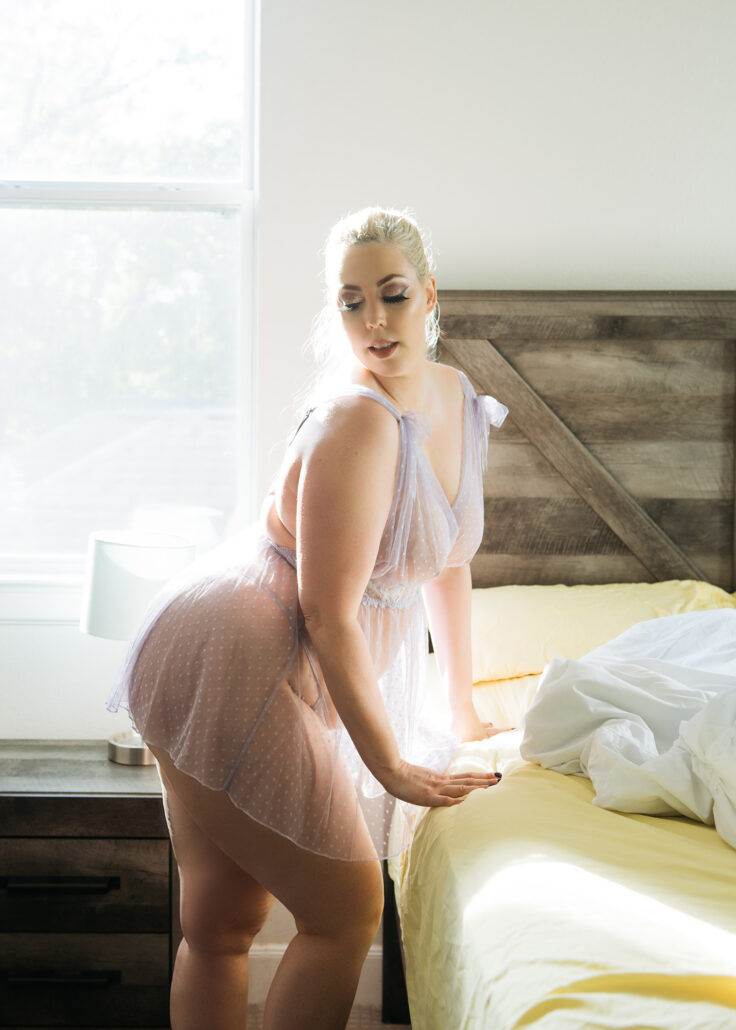 You read that right! Buy separates, separate! There's lots of us who have a different size on top than we do on the bottom. So, don't disregard buying your pieces separately, especially if in black or white, if you have this issue.
Buying separate pieces separate also allows to adjust to highlight what you want. For instance, if you love a top but the bottom of that set is way too revealing for you, then shop for a high wasted bottom separately. Also, consider that even when you think a piece is way too revealing on the bottom or mid section, don't discard that a see through skirt may get you to like how the outfit looks.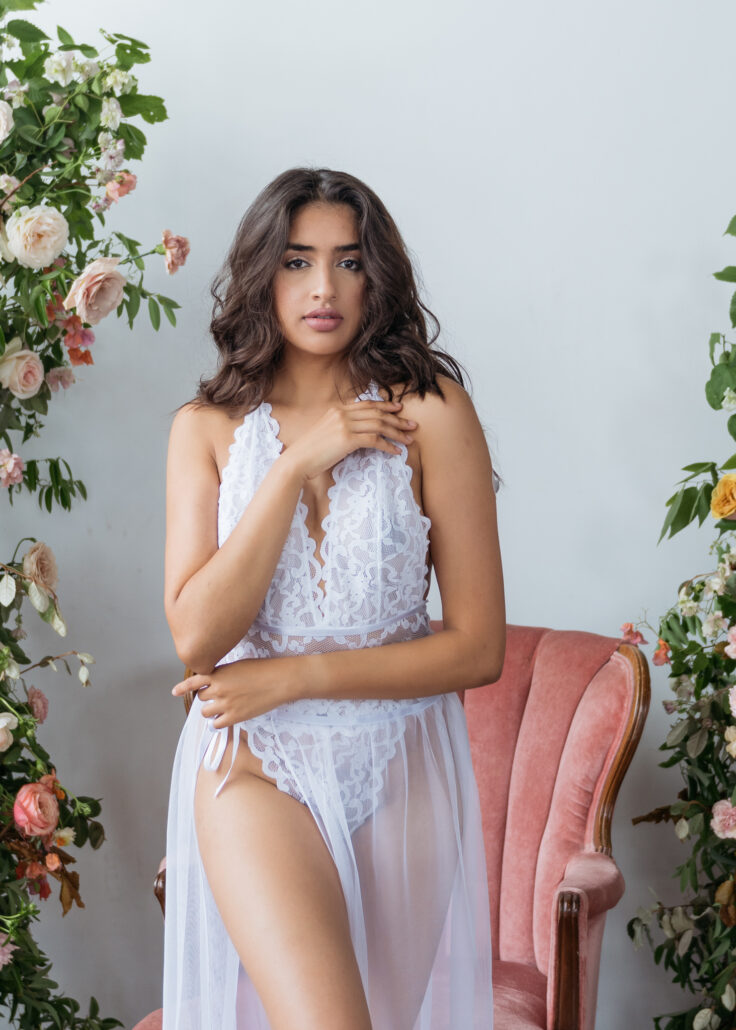 What to wear to my boudoir session: outside the box ideas!
Besides lingerie, other pieces to consider are:
Loose sweaters that allow you to show off your shoulder
Vests you can wear with our without a bra
Short shorts
See through kimonos, vests, cardigans
See through white shirt
Fish nets
Chiffon blouse (instead of your husband's button down shirt that's way more stiff and won't accentuate your curves)
Scarves
Body jewelry
Long socks with a T-shirt
Mini skirt
Lace see through tops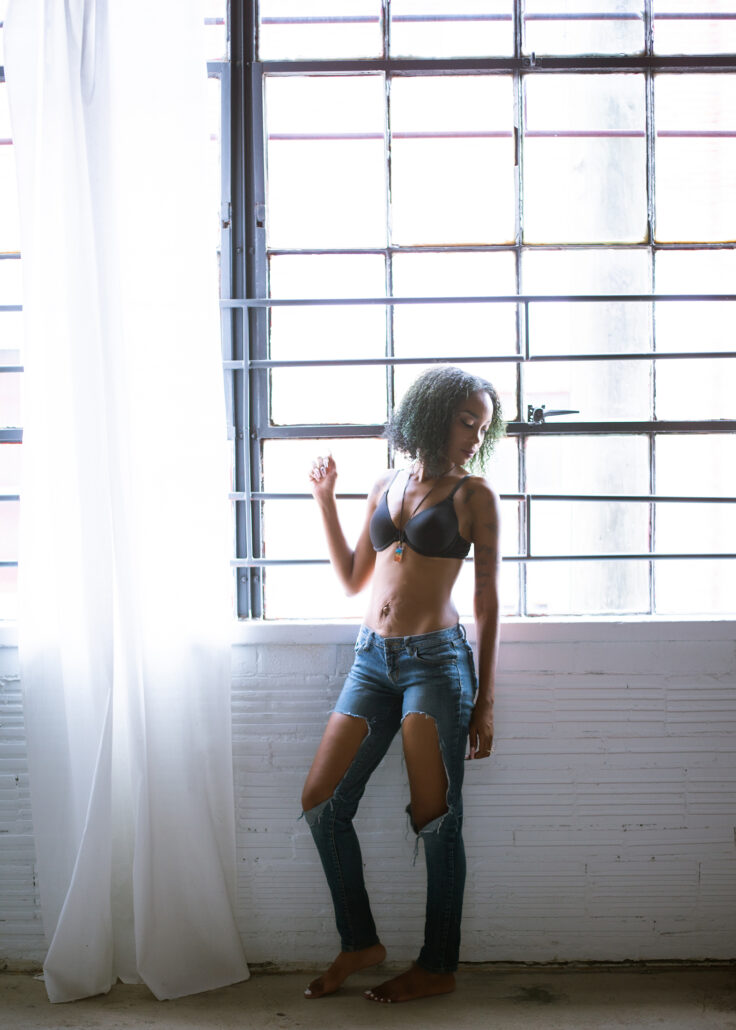 Don't want to worry about what to wear to my boudoir session? Go half or fully nude!
When lingerie shopping becomes too much for you, remember that you can always go half nude or fully nude.
I will have robes, chiffon fabrics, as well as lace fabrics to play with!
I hope I answered your what to wear to my boudoir session in this blog! Are you ready to find out more about how to schedule yours? Fill out my contact form to schedule a 15 min chat with no strings attached!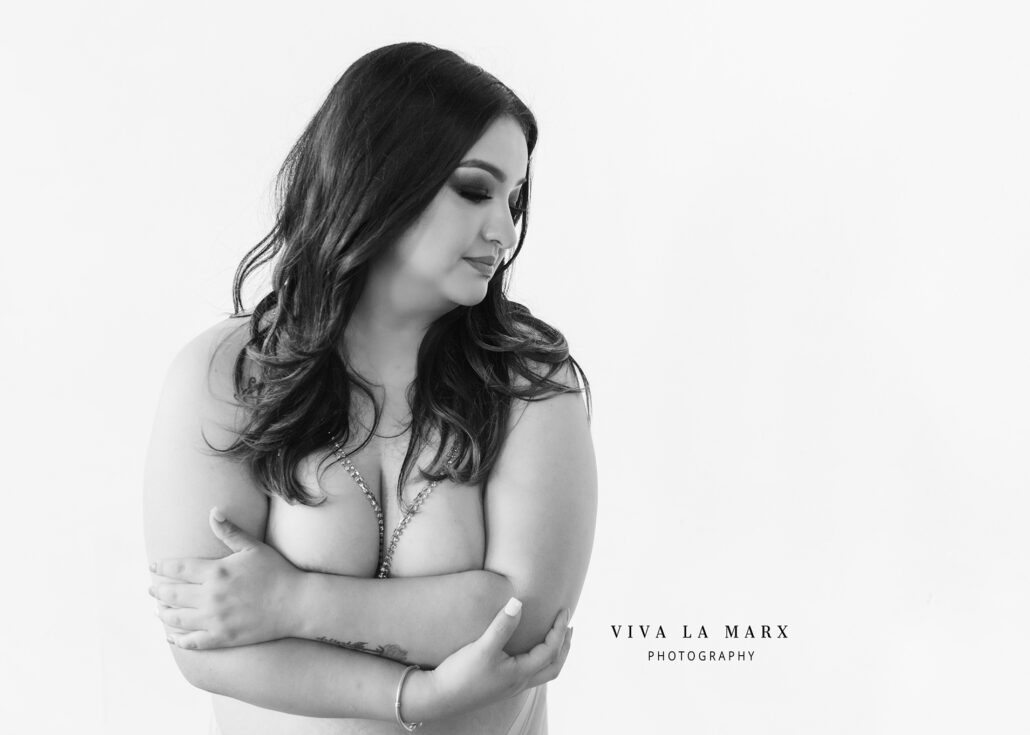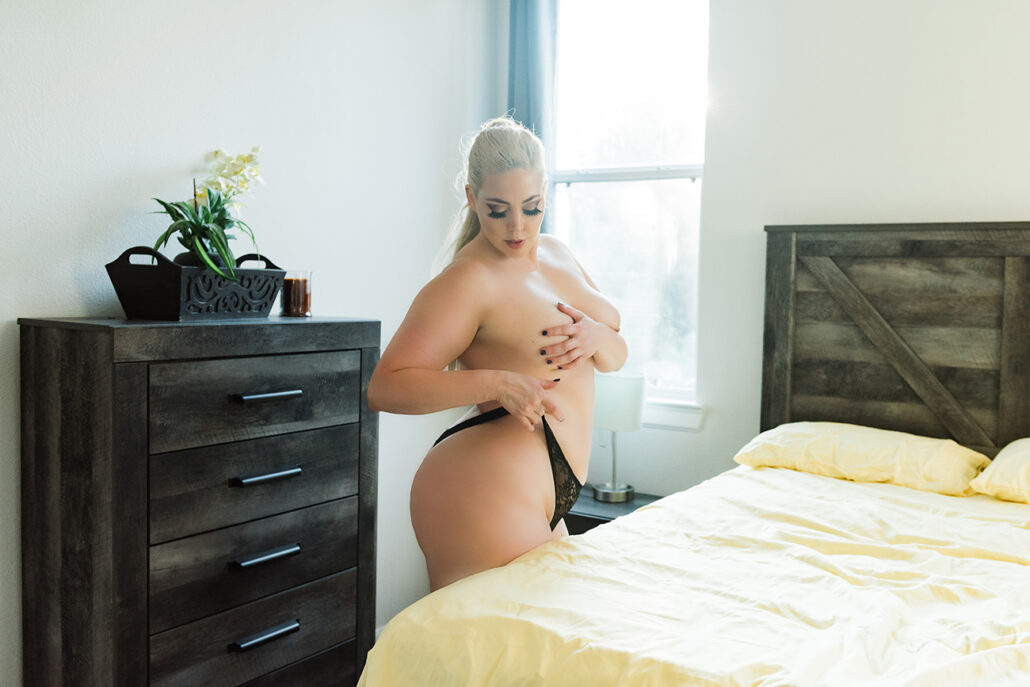 To stay in touch through my monthly  newsletter, where I share about personal anecdotes and other photography related topics fill out this form!